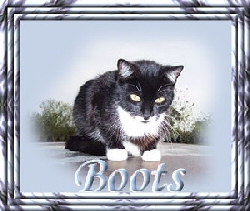 This is Boots. One of her distinguishing marks is a perfectly
shaped moustache. It looks like it was painted on there, right
above her mouth. She got her name from her white feet that
look like boots. They show more here.....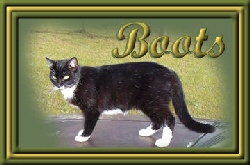 Boots is about 8 months old. I don't know what breed she is
because her mother was a stray that came up here. She
wouldn't let us touch the babies when they were first born, so
they weren't very tame. Now, Boots follows me around a lot
when she is inside.
One of the things I really like about her is the way she tries to
open the door sometimes. She gets up on a small table by
the door and stands on her back legs, reaches over and puts
her front paws on the door handle, trying to turn it. LOL
That's enough for now.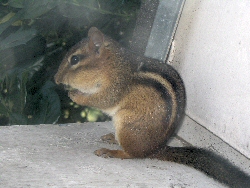 I am going to enter one of my outdoor friends for POTM this time......This is a chipmunk named what else "Chip" He comes to my window that Is right by my desk . I feed him and the squirrels nuts. In the picture you can kind of tell how many he has stuffed in his mouth. My 3 yorkies do get upset when I open the window and give them food. They bark -he runs away for abou 10 seconds then comes back to eat.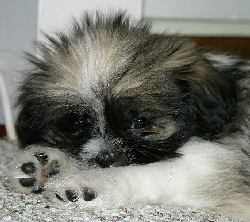 This is Maggie, a 12 week old Shih Tzu puppy.
During the past 3 weeks that she has lived with us she has turned into a friendly, outgoing puppy.
She was shy at first but now she rules the house, including me cat, Missy.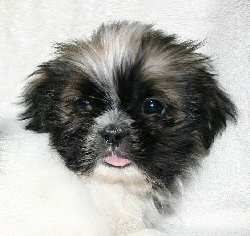 At first she would always have her tongue sticking out because she was a bit scared at her new surroundings.
Now, we hardly ever see it sticking out at all. I'm sure she will supply us with lots of love and laughter in the years to come.
This is Friskey he is a stray came up here when he was a small kitten he is the oldest of my cats he was the only cat here so he would play with all of the dogs that we had but if a stray dog came up he would chase them away but when we got other kittens Friskey went next door until he finally got use to them then he decided to come home and eat then leave again then finally he decided he could live with the others so he came back home to stay